Worried About the Outlook for Stocks and Bonds? Consider the Collector Car Alternative for Perspective
Posted: September 23, 2019
By Atty. Andrew J. Willms

Highlights:
Collector cars outperformed stocks and bonds during the Great Recession.
Making a profitable investment in a rare auto requires a high degree of specialized knowledge, and an eye for detail. Good luck helps, too.
If you invest in a rare car, be sure your estate plan specifies how it will be treated for heirs.
Readers of this blog already know I am a long-time car enthusiast. My passion for all things auto began when I was in high school (a little over 40 years ago -- ouch!). Like most of my high school gear-head cohorts, my first car crush was on muscle cars from the late 60's and early 70's. Since then I've invested in a British sports car (1964 Sunbeam Tiger), a "rat rod" (1934 Ford Pickup), and a modern-day muscle car (a 2018 Dodge Demon), among others.
From a finance perspective, collector cars purchased as an investment fall into the "alternative investments" category. An alternative investment is one that's something other than a conventional investment, typically stocks, bonds, and cash.
Lately, investors have begun looking more closely at alternative investments, as the outlook for stocks and bonds has become muddled. Falling interest rates, a flat/inverted yield curve, and the ongoing U.S.-China trade war have contributed to volatile market performance of late. Bond prices may have entered into bubble territory as rates have fallen to historic lows, and in some cases are actually negative.[1]
Alternative investments can be a good way to hedge against a market correction. Our human nature supports investing in tangible assets when the economy is struggling and the security markets are turbulent. Unlike stocks and bonds, rare autos, art work, and jewelry are physical assets that can bring pleasure in their own right. I don't know about you, but I would much rather take a vintage sports car for a drive on a beautiful Sunday afternoon than sit around staring at an account statement, especially one that is full of red numbers.

Collector cars were one of the top performing members of the alternative asset classes from 2006 tom 2016, according to WMC, a British fund investing in vintage autos. The K500 Classic Car Index outperformed both domestic and international stock indexes during that period and was a top performer during the Great Recession of 2008-2009.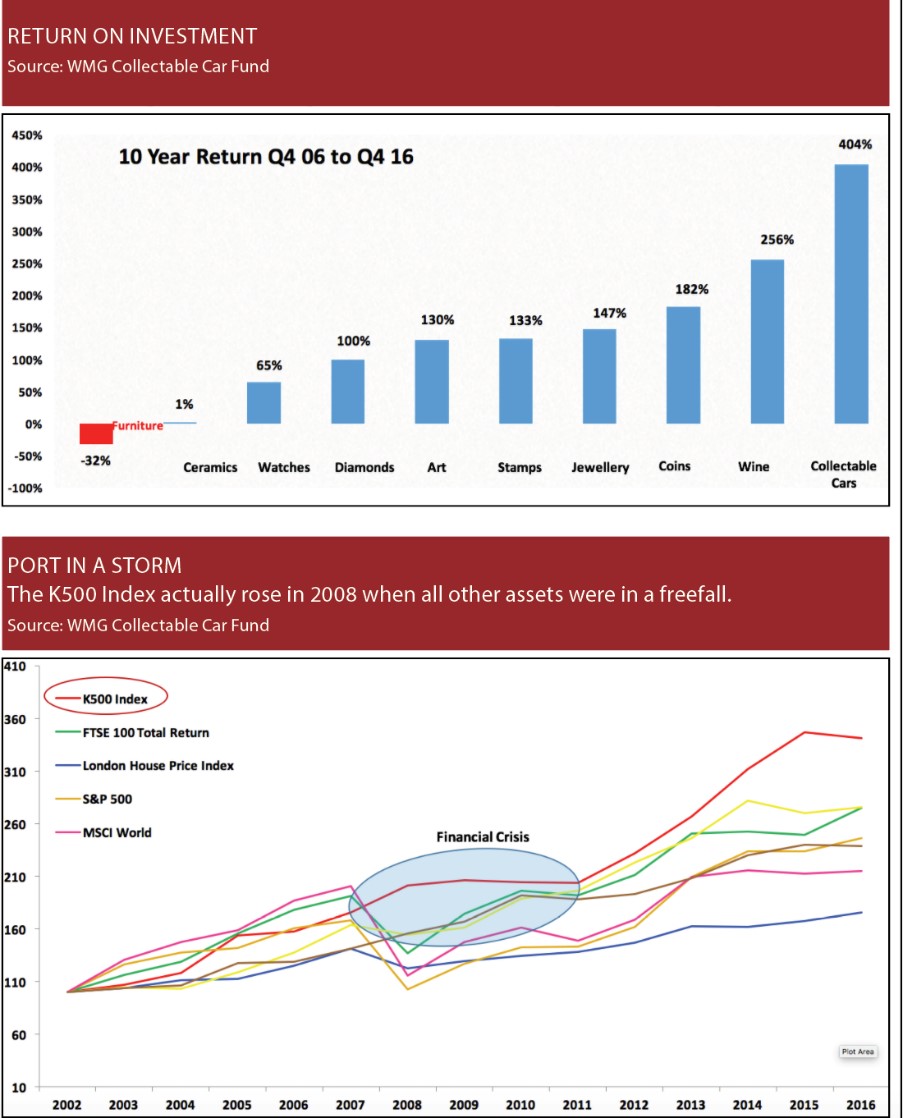 It all looks easy today, but making a profit on a collector car is far from a sure thing. Success in this niche requires a high degree of specialized knowledge, an eye for detail and often the good luck of being in the right place at the right time. If you are contemplating the purchase of a collector car, here are my top-10 tips to avoid making a bad investment.
Know what type of car you want to collect. Before you begin to invest in rare automobiles, decide if you are doing so for the money, the joy of ownership, or a little of both. Make this decision wisely and it will go a long way into making your investment a success.

Know in advance why you are buying the car. Generally speaking, cars that are bought for weekend driving don't make the best investments. True collectibles with the most potential for return are low mileage, pristine examples. Investing in a rare, low-mileage car as an investment means you ought not to drive it.

Buy what you know. Just as investors should stay away from complicated investments that they do not understand, car collectors should purchase cars that they are familiar with and passionate about. Don't invest in a Ferrari unless you have been a Ferrari fanatic for a long time.

Tastes change. Even modern-day pickup trucks are faster, brake more quickly and handle better than the muscle cars of yester-year. As a result, those cars could lose value as baby boomers age. By comparison cars that are known for their beauty and styling have more universal appeal, and as a result are more likely to grow in value with the passage of time.

Unless you know your way around a tool box, stick to cars in pristine condition and preferably well documented. More times than not, it costs far more to restore a car than it will be worth when the restoration is done.

Never buy a car on a whim. Instead, have a qualified mechanic look it over. And by qualified, I am not talking about a high school kid working at the local Jiffy Lube. Instead, I mean a mechanic who specializes in repairing the make of car you are thinking about buying.

Do your homework. Be sure to research the fair market value of the car you are looking to invest in. Fortunately there are lots of good online sources that can help you do this, including Hegarty Valuation Tools, NADA Car Price Guide, The Collector Car Review, and the HAGI Index.

When it comes to classic car auto auctions, buyer beware. Auto auctions hosted by reputable auction houses such as Mecum, Barret Jackson, and RM Sotheby's can be an excellent place to buy a classic car, provided you have the car inspected beforehand, and you don't get caught up in the moment and overpay. Be sure to determine in advance the most you are willing to spend. When doing so, keep in mind that you will have to pay a commission to the auction house (typically 8% - 10%), and will likely have to pay to transport the car after you bought it. Online auctions are far less expensive, but present a host of other potential problems, not the least of which is outright fraud.

Plan for carrying costs. Keeping a collector car in top shape can be an expensive proposition. Insurance, storage, and maintenance costs all contribute to the overhead.

Be prepared to hold on to your collector car for a long time. Just like the security markets, the collector car market is volatile. As a result, be sure you have a sufficient financial cushion to ensure that you won't find yourself forced to sell in a down market.
If you do invest in one or more classic cars, it is very important to make arrangements in advance as to what should be done with your collection after your death. If you would like to give the car to a family member, a bequest to the lucky recipient in your estate plan should suffice.
If you would like more than one member of the family to enjoy the collection, then consider establishing a trust to own them after your passing. The governing trust agreement can name a qualified person to oversee the care and maintenance of the cars you leave behind, and can also specify how the cars are to be used and enjoyed by the trust beneficiaries.
If your cars are to be sold, then your estate plan should provide guidance to the person in charge of the administration of the estate on how the sales should be handled. For example, your estate plan could delegate the responsibility for handling the sales to a knowledgeable person, or recommend the cars be sold at auction by an appropriate auction house.
Finally, you may also want to donate your car collection to an auto museum or other non-profit organization. If so, then you may want to make a gift during life rather than a bequest after death. That's because, unlike a bequest, a lifetime gift to a charitable organization that is recognized by the IRS will provide you with an income tax deduction equal to the fair market value of the donation.
As for me, a collector car I bought 35 years ago gave me the greatest return on investment I've ever had -- a 1969 Corvette Stingray roadster equipped with a 427 C.I. V8 engine. My Corvette hasn't appreciated nearly as much as a rare Ferrari or Ford Cobra. In fact, it hasn't appreciated very much over the last 10 years or so.
The reason I believe my Corvette is the best investment I ever made is because it was the car I was driving when I met my wife almost 30 years ago, and I suspect played a big part in making a favorable first impression. The two of us have been together ever since.
The moral of my story: a collector car will never be a bad investment if you buy a car you love, and it brings you happy memories. Any profit you might make on that type of car is icing on the cake![2]
Thank you for reading,
Andrew J. Willms, JD, LL.M
P.S.: If you enjoyed this post, please consider following Andy (aka "The Market Commentator") on Twitter or signing up for his weekly blog on finance and the markets here.
[1] A negative interest rate means a borrower will have to pay back less than the amount borrowed!
[2] My Corvette is not for sale, but my Demon is!
Schedule an appointment with us today.
Meet with a knowledgeable attorney who specializes in your area of law.
FIND US O'Leary-Guth Law Office, S.C.
1251 W. Glen Oaks Lane, Mequon, WI 53092